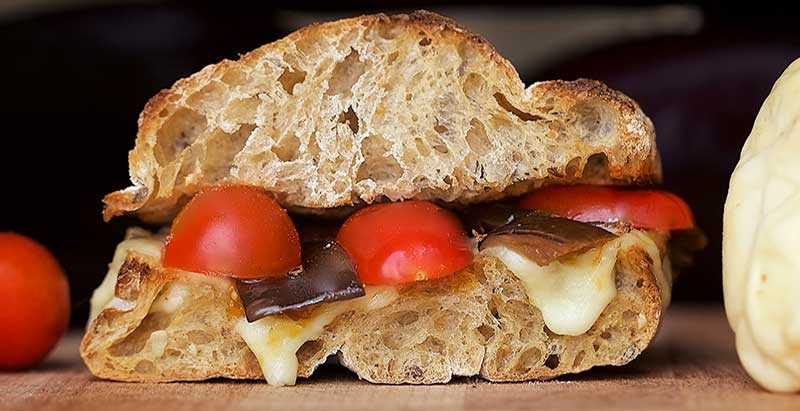 'Mpustarella with eggplants and smoked mozzarella
Only two ingredients for this creation which leads into the heart of the Neapolitan cuisine. But do not be fooled by its illusory simplicity. A combination of sweet and smoky flavors for a sure bet with a rich and compelling taste.
Funghetto eggplants;
Smoked cow's milk mozzarella;
Piennolo little tomatoes.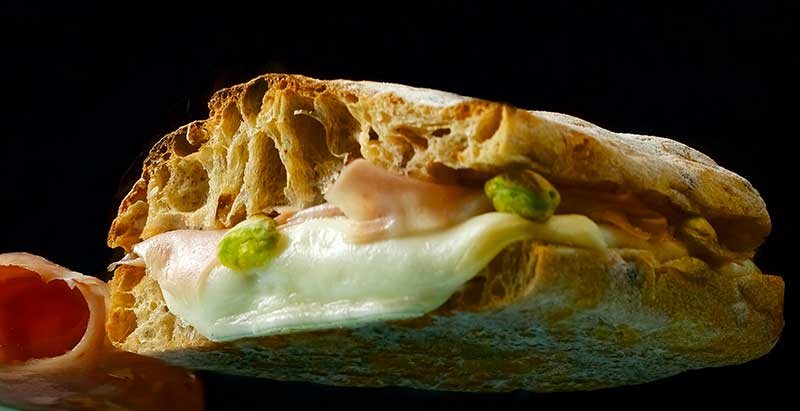 'Mpustarella with mortadella and smoked mozzarella
It wouldn't be a sandwich without the "queen of sliced meats". And if the lady of Bologna is the one made by Pasquini & Brusiani there is no need to say more. With pistachio pesto to enhance its aroma and smoked buffalo mozzarella winks at the tradition, renewing it with very modern features.
Bologna's artisanal mortadella;
Smoked buffalo mozzarella;
Bronte green pistachio pesto DOP.
'Mpustarella with smoked mozzarella and peppers
Yellow, orange, green, red. Here the nature indulges in painting a vivid chromatic variety. And that plain white, which is anything but simple, helps them to warm us up as warm are their colors.
Peppers;
Smoked cow's milk mozzarella.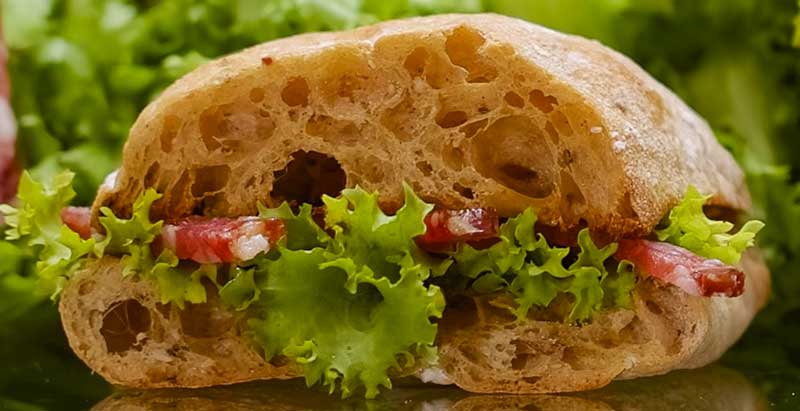 'Mpustarella with curly escarole and salami
Freshness and crispness combined with a pleasant sensation of lightness: with these three characteristics, the raw curly escarole emphasizes the stronger taste of salami cut into julienne.
Fior di latte;
Uncooked escarole
Salami cut into julienne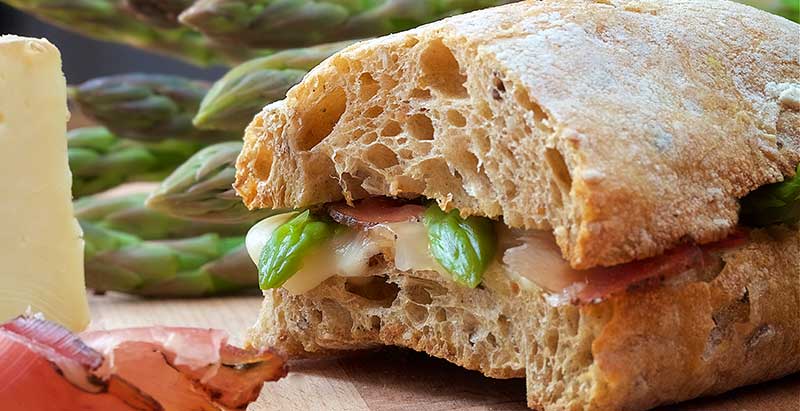 'Mpustarella speck, taleggio and with asparagus
From North to South, a round trip with a combination of ingredients that unites in the name of a full and original taste. A great pair taleggio-asparagus. Slightly acid is taleggio, while sugary is the asparagus. It is all supported by the unparalleled taste of speck.
Speck;
Taleggio;
Asparagus.
'Mpustarella with tuna and little tomatoes
Delicious in no uncertain terms. This great classic of the Neapolitan cuisine wouldn't need any introduction but here the marriage is a true delicacy. With their high sugar content, the datterini tomatoes are gently combined with the fleshiness of tuna fillets.
Datterini little tomatoes;
Tuna fillets;
Smoked cow's milk mozzarella;
Basil.