Deep-fried pizza with fresh ricotta cheese and cicoli
Classic filling, Neapolitan masterpiece of invention and the inescapable ability of the hunger genius to write the history. Ricotta and cicoli (pork scratchings), sweetness and fatness in a perfect balance of flavors and textures that calls into play the memory.
Buffalo ricotta cheese;
Cicoli;
Black pepper.
Deep-fried pizza with fior di latte and zucchini
When the spring involves its early fruits and vegetables, painting the gardens with vivid colors, this pizza grabs the spotlight. And it wins a place of honor among the golden creations. Rounded-shaped discs of zucchini get into the rich blend of fior di latte and lard.
Fior di latte;
Zucchine;
Colonnata lard.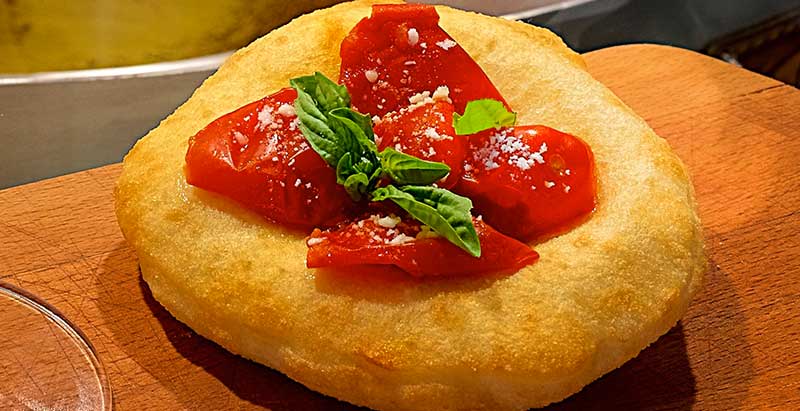 Montanara
Harmony of contrasts for this appetizer that starts the dinner and already foresees the place slant. A taste that attracts contraries: crisp and soft, hot and cold, deep-fried dough and little tomatoes. And the offer is enriched by the smoked buffalo mozzarella, Colonnata lard, buffalo mozzarella strips, Genovese pesto sauce… in a winning union of opposites.
Piennolo tomatoes;
Grated pecorino romano cheese;
Basil.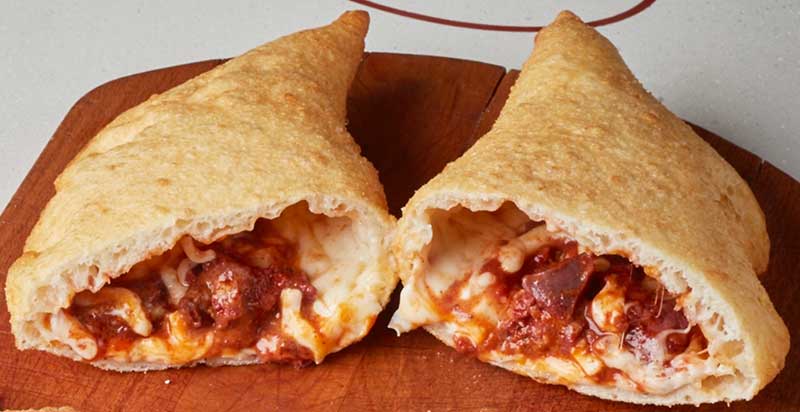 Deep-fried pizza with smoked mozzarella and soffritto
Spicy and unforgettably tasty. Highly persuasive when temperatures are very cold. Honoring the tradition, the soffritto, intense and aromatic, with grated pecorino romano cheese and a handful of black pepper shouts its character from the first bite.
Smoked cow's milk mozzarella
Neapolitan soffritto (spicy soup);
Pecorino romano cheese;
Black pepper;
Basil.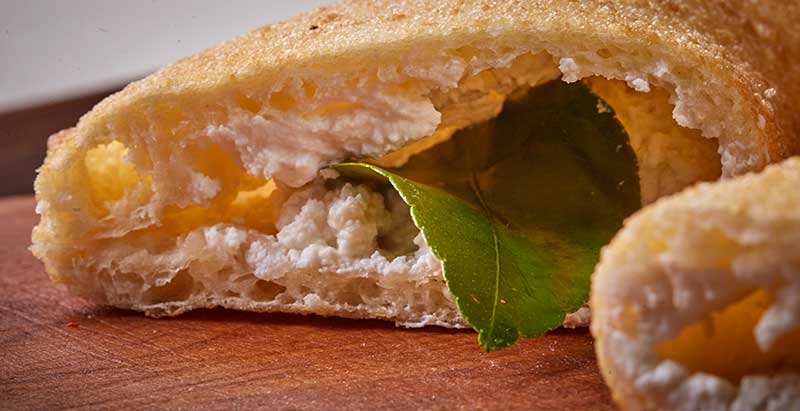 Deep-fried pizza with fresh ricotta cheese and Sorrento lemon leaves
Summer is served with this pizza created just to give a breath of fresh air during the warmest season. The ricotta cheese creaminess fills the palate like the pleasure of a refreshing dive. And the addition of some lemon leaves, extracted from the dough as soon as it is out of the sizzling oil, are a real touch of class. The irresistible aroma they emanate offers a complete overwhelming sensory experience.
Buffalo ricotta cheese;
Sorrento lemon leaves.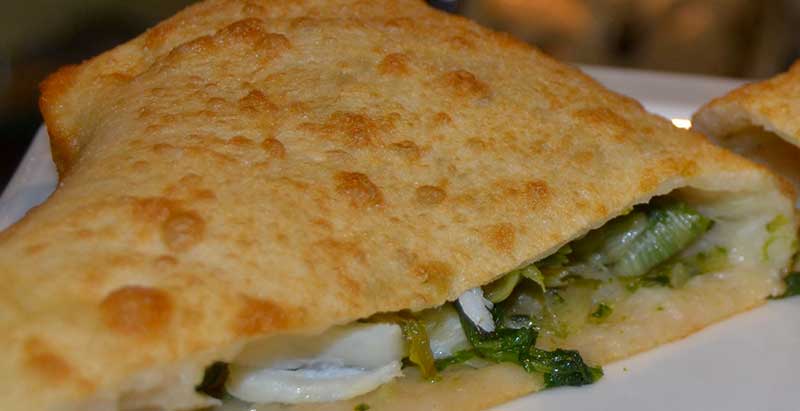 Deep-fried pizza with escarole and salted codfish
Inspired by Ippolito Cavalcanti's Pasticcio de pesce, this recipe rules with all its Mediterranean energy. Land and sea brought to your table with what was once considered poor man's food supported by the slightly bitter taste of the escarole, steamed between two layers of dough. Capers to give flavor, while pine nuts, raisins and black olives further enrich the result.
Salted codfish;
Escarole;
Pine nuts;
Raisin;
Capers;
Gaeta black olives.